Beaujolais wine estates & wineries
Domaine Passot Collonge
Two families of vinegrower-winemakers from father to son have joined to form our estate:
-The PASSOT family, from Chiroubles and Fleurie. Jean-Benoît PASSOT, our great grandfather, was the first winemaker, born in 1867.
-The COLLONGE family, from Villié-Morgon. Antoine COLLONGE, farrier, bought a wine estate in 1828.
-Vinegrower-winemakers since 1978, we created Domaine PASSOT COLLONGE in 1990 with vines from our forefathers in four Beaujolais Cru appellations: Morgon, Chiroubles, Fleurie and Régnié (the prince of Crus and the most recent of the Beaujolais Crus).
-We were among the first vinegrowers to use integrated, eco-friendly tending techniques in our vineyards from 1992.
-We were joined on the estate by our son, Jean-Guillaume, in 2005 when he passed his BTS (vocational degree) in viticulture-oenology. He has gradually increased the range, with vineyards in Côte de Brouilly, Brouilly and Brouilly ''Pisse-Vieille'' (the excellent and only climat or named vineyard in this Cru).
We craft a range of 6 Crus that each carry the stamp of the geographic formation they come from and traditional vinification in small batches. A cuvée for each plot.
With our choice of vintages, we can please all tastes.
Be prepared for a few surprises when you taste our wines; their structure joins forces with the unequalled fruitiness given by Gamay grapes when they come from the land they call home.
Convinced that eco-friendly, integrated vine tending is the right way to go, we started using these methods in 1992. In preserving natural balance and the biodiversity of our terroirs, we are respecting both the environment and the consumer. Since 2018, all our wines are TERRA VITIS certified.
If you can come, we'd love to give you a tour of our estate for you to find out more about our profession of vinegrower-winemakers. You can be sure of a very warm welcome in our Bed and Breakfast on the estate, set in the heart of the Beaujolais vine slopes.
Details of activities
Guided tour of the vines and cellar by appointment. Rates: please contact us.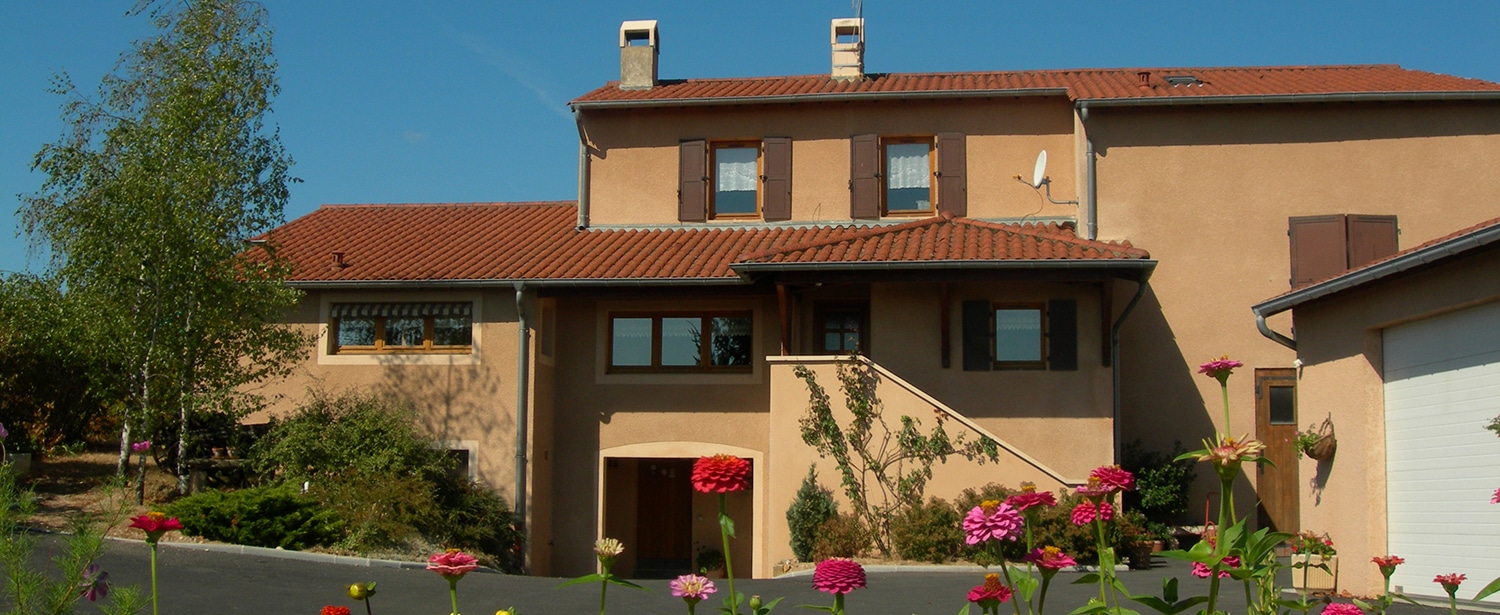 Photo credits : Le Domaine Passot-Collonge
Wine tourism manager
Monique, Bernard et Jean-Guillaume PASSOT
Address
210, impasse du Colombier / Route de Fleurie 69910 Villié-Morgon
Reservation of tasting
recommended
Designation
Beaujolais-Villages
Brouilly
Chiroubles
Côte-de-Brouilly
Fleurie
Morgon
Régnié
Activities
Tasting
Vente à emporter
Estate rentals/accommodations
Vineyard walks (hikes, strolls)
Opening days and hours
Open every day by appointment.